The Sage Record
Lyndie Blevins blogging from Sage-Texas where you can expect greater things to come
Book Review - The Innocents Abroad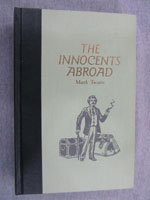 Book Title
The Innocents Abroad
Book Author Mark Twain
Publisher Readers Digest
Pub. Year 1869
Pages 432
Genre Travel
My Rating  ♥♥♥♥♥
Ease of Read Moderately easy
ISBN 08957733920
I was attracted to this book because...
I need to research traveling by ship in 1867. This book was the perfect answer to learn about traveling in Europe in this time period, as well as an idea of writing in the time period. Matt Twain went on a Grand Tour of Europe and the Holy Lands in 1867. This book met all my research needs.
This book was about...
Mark Twain had an opportunity to take a Grand Tour of Europe and the Holy Lands on the Quaker City with 64 other Americans. The voyage took about six months. He relates the experience of the trip in his own words. He sent newspaper reports throughout the voyage. As cholera was rampant in many places they visited, they often experienced quarantines in many ports lasting various time periods. Some were over nights and others where they were completely blocked from entering and had to move on. When the time period was short, Twain was always in the group which managed to go into town anyway.
As humor often does, Twain's approach to classical art, historical locations and sacred art and places, revealed a great amount of truth lacking in writing that respects the traditions of these objects.
Spoiler Alert: There is absolutely no political correctness in this book. (Makes you wonder what Mark Twain would do today.) If you are Muslim, Catholic, Mormon, well not Protestant, French, Russian, well not American, American Indian, Police, and other groups I didn't pick up on, and a member of Congress, read this book with caution.
Things I liked about this book...
I confess. I have the same sense of humor as Mark Twain. So I enjoyed the way he documented the trip, his fellow travelers and the places they visited. He often drew parallels to locations he visited to places in America. I found this very helpful. He used Lake Tahoe several times. I know the first time I visited Lake Tahoe in the dead of winter, I thought it has to be the most incredible place on earth. I found the comparisons of other localities on point. It also helped me have a better understand the size of the landscape he was describing.
If you replace gas lights with electric lights and horses/carriages with mini-vans, you would think you were reading about a trip today. (Although it would be interesting to see the Holy Lands on donkey/horseback.
If I get a chance to go back to Europe and visit the Holy Lands, I'm taking this book with me.
Why you should read this book...
This is considered the best travel book ever written. According to Leslie Fiedler, who wrote the afterward in the Readers Digest Edition, "it became an instant best seller (.429)"... "and for a long time it outsold all of Twain's other books, including The Adventures of Tom Sawyer and The Adventures of Huckleberry Finn. (p. 430)"
The prose can be wonderful. After one draw on a Turkish narghile pipe, he writes, "For the next five minutes I smoke at every pore, like a frame house that is on fire on the inside." (p. 240)
Recently, I've read some posts on how memoirs an be a great way to break into consideration as a serious writer. This book took Mark Twain from a 'newspaperman' into a professional writer in Twain's mind, as well as the general public.
In the Afterward, Fiedler says this is the book where Samuel Clements found his voice as Mark Twain. As a writer, it is worth the read to see that voice develop.
This book lived up to the back cover copy...
Actually, I have this book on my Kindle and I got my hard copy from Half-Price Books, so I don't have a back cover. It did live up to what I read on the internet and to the comments in the Afterward by Leslie Fiedler. If your copy has the Afterward, I would recommend reading it first.
Contact the Author ...
Stay Informed
When you subscribe to the blog, we will send you an e-mail when there are new updates on the site so you wouldn't miss them.