The Sage Record
Lyndie Blevins blogging from Sage-Texas where you can expect greater things to come
ACFW DFW Mini-Conference August 8, 2020 Love This Writing Life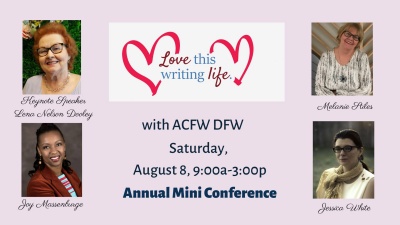 Melanie Stiles comes to us from Houston, TX. She will speak on, "Delivering a Devotional Message." Hear her discuss how to break into print while connecting with God on an intimate level. Her workshop will explore the core components involved in formatting, writing, and selling these short, impactive messages that have the power to reach God's people everywhere.
Dubbing herself a "Life Coach in Blue Jeans," Melanie is not only a life coach, but also an award-winning author, and a speaker who has been a prayer leader and lay minister at Lakewood Church, Houston for over seventeen years. Three of her many books include, The Heart of a Ready Scribe: 52 Reflections for Writers, the recipient of the 2012 USA Best Book Award, and a 2012 Indie Excellence Finalist, as well as the 2013 Xulon Press Christian Choice Award: Let's Write Devotionals! A Non-Nonsense Manual: as well as, And She Shall be Called Woman: A Bible Study on Less-Known Women of the Bible, a 2020 Book Excellence Award Finalist.
Lena Nelson Dooley says she writes about characters that grip your hearts. As our keynote speaker, she will present, "The Wonderful Plans Our Marvelous God has for Us." She says, "God has a plan your life and your writing. His plans are always perfect and timey. Do you really know how much He loves you?"
In her second workshop, "Layering Pizzazz", she will share a way to write a novel that has helped many writers dig deeper and make their work more interesting.
A published, award-winning author, Lena has had more than 900,000 copies of her 50+ books sold. Her novels have appeared on the CBA, Publisher's Weekly and ECPA bestseller lists, as well as the Amazon bestseller lists. She is a member of American Christian Fiction Writers and the local chapter, ACFW DFW, which she helped co-found. Her latest book, Four Seasons of Love: Clean Millionaire and Billionaire Novellas, came out in June 2020. She's a member of Christian Authors' Network, and Gateway Church in Southlake, Texas.
A few of Lena's many awards include, Mary's Blessing Selah award, second place; Mountain Christmas Brides ECPA bestseller list 3 months, Publisher's Weekly top 10 list 5 weeks; and A Heart's Gift, 2017 FHL Reader's Choice Award.She has experience in screenwriting, acting, directing, and voice-overs. She is on the Board of Directors for Higher Ground Films and is one of the screenwriters for their upcoming film, Abducted to Kill.
Jessica White, coming to us from Oklahoma, Jessica will discuss, "Finding Your Audience." She explains that finding your ideal audience can often feel like searching for your soulmate. But you don't have to leave it up to serendipity. Come learn how to identify the qualities of your ideal reader, where to find them, what you need to do to woo them, and how to build lasting relationships.
A former member of our ACFW DFW group, Jessica is a prayer warrior who loves to encourage and create safe spaces for the hurting and lost. She's committed to living out God's love and standing for equality, diversity, and justice in her community and publishing. She has a B.A. in Educational Studies. Her Christian historical fiction books include, Surviving the Stillness, and Bound by Brokenness. Her latest novel, Song in the Dark, a contemporary Christian romance, came out June 2020. She's a member of American Christian Fiction Writers. She also is a founding member of 10 Minute Novelists LLC, an international group of time-crunched writers.
In Joy Massenburge's workshop, she will address, "When The Honeymoon is Over: Producing a Finished Manuscript." She asks, "Can you remember when the words flowed onto the page? You were confident God had called you to join the writing world and loving the journey. However, like any love relationship, you're going to experience adversity. The dreaded rejection. The disappointing critique. And God forbid life take an unexpected turn. This presentation will equip you with craft practices that will produce a finished manuscript in sickness and in health, richer or poorer, until you write THE END."
As an author and speaker, Joy K. Massenburge crafts the love stories of pastors and their kids. She was born the sixth child of a pastor. She married a football player turned pastor…they raised
pastor's kids; a son and two daughters. Her contemporary romance debut novel, "A Heart Surrendered," from Harambee Press, is a top-seller. She's also written "A Cry for Independence: Life After Abuse," also a contemporary Christian romance novel. You may have heard her as the voice of Beatrice "Mama B" Jackson in author, Michelle Stimpson'sMama B Book series.
When she is not writing or recording, she is speaking at retreats and conferences. Believing it is
better to give than receive, she serves as American Christian Fiction Writers (ACFW East Texas
Writers) chapter's President. If ever you visit Tyler, Texas, you can find her curled up on her back-porch swing reading a good book with her four grandchildren, caretaking for her donkey and a dog, or filling her five-acre country home with fifty-plus people for a Blue Bell ice cream party.
Stay Informed
When you subscribe to the blog, we will send you an e-mail when there are new updates on the site so you wouldn't miss them.