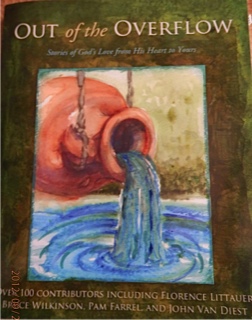 Have you ever felt so full of joy you thought you were going to burst?
Are there times when God's love overflowed from your life and you felt like a bystander? Was there ever a time you had a need, perhaps a need no one else knew about, and God met that need in a miraculous way?
Out of the Overflow is filled with the stories of people who can answer yes to those questions - people who have said yes to God and have a living vital relationship with Him. A relationship that often overflows into the lives of others.
Take a glimpse through the eyes of those who have experienced the excitement and thrill of having God's love from from their lives flow into the lives of others.
The contributors to Out of the Overflow and CLASSEMINARS, Inc, are pleased to be able to share their stories of hope. No matter what the circumstances, the overflow of God's love and provision in their lives splashes onto the pages.
Working together on this book was a joy as authors critiqued one another to create the best manuscripts possible. They developed friendships with fellow writers, working relationships with editors and agents, and encouraging Networks that took their writing to the next level.
CLASSEMINARS, Inc. is delighted to be part of Out of the Overflow. The CLASS Christian Writers Conference in Abiquiu, NM, was the setting that inspired these life-changing words. May they speak to your heart and encourage you to live your life out of the overflow of God's love.
My poem, When I Sing to Jesus, on page 127, is the story of the joy I received singing to Jesus from the time I was a small child to now.
Price - $17.00
Visit my online store to order a copy of Out of The Overflow
Click to order just Out of The Overflow