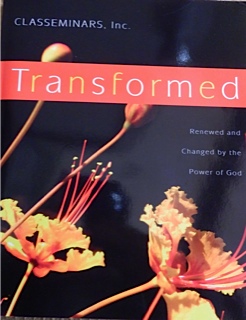 God uses every day events and circumstances to change lives.
He will intervene through life situations, incidents, and experiences. He will use encounters with relatives, friends, casual acquaintances, and even strangers to help you be renewed and changed. He will help you see His Word in a new practical way. Your life can be renewed, renovated, and replenished.
The stories in this book will show you how God reached into the lives of ordinary people to revitalize and redeem. Read it and discover the life changing messages confirming the words Paul wrote in Romans 12:2 "Do not be conformed to the pattern of this world, but be transformed by the renewing of your mind. Then you will be able to test and approve what God's will is - His good, pleasing, and perfect will."
CLASSEMINARS, Inc. is pleased to bring you the stories of those who have been transformed. Read each story for yourself and discover the power of God to change and renew.
CLASSEMINARS, Inc. is America's premier trainer of Christian speakers, writers, and leaders. CLASS provides courses of all types to help Christian communicators speak with power and write with passion. www.classeminars.org
My story, God's Recital on page 143, tells on my experience playing the piano for the first time during worship services.
Price - $17.00
Visit my online store to order a copy of Transformed