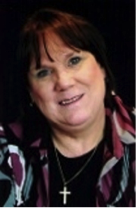 Julie B Cosgrove is a freelance Christian writer and author who writes regularly for several Christian websites and publications. She has authored six nonfiction works and seven novels with three more under contract for 2016-2017. Julie writes contemporary Christian romance, suspense and cozy mysteries. She pens devotional and inspirational articles regularly for seven publications and websites.
She also leads retreats, writer's workshops, Bible studies and quiet days for prayer and reflection. Nominated as a 2016 finalist for the Grace Awards and semi-finalist in the INSPY Awards, she was awarded One of 50 Writers You Should Be Reading by the Author Show, and Best Religious Fiction 2016 by the Texas Association of Authors. Julie lives with two cats in Fort Worth, Texas and loves to spend restful time at her family's cabin on the river in the Texas Hill Country where she first drew closer to God.
Visit her website at www.juliebcosgrove.com and her blog entitled Where Did You Find God Today?
and on her Facebook author page
on her Amazon author page
on her Goodreads author page
on Linkedin
Julie writes both Christian Fiction and Christian Non-Fiction