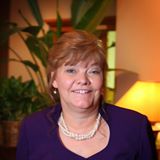 Redeemed, how I love to proclaim it!
Christ redeemed my soul when I was eleven. At seventeen, God gave me the love of my life, Gary, who served as a pastor for thirty-six years before retiring. We have been married for more than forty-two years and have been blessed with two children and two grandchildren.
After working to put my husband through college and seminary, God gifted me with academic scholarships for college and graduate school. I was a member of Sigma Tau Delta National English Honor Society and was inducted into Who's Who in American Colleges and Universities. I have a BS in education and a MA in English, with a published thesis titled Mark Twain: The Voice of Innocence and Innocence Corrupted. For twenty-three years I taught English and English/language arts in public schools. Through the years, my students scored very well on state standardized writing tests, and many of them won writing contests and awards.
God gave me the desire to write when I was thirteen, but I did not actively pursue this calling until the past eight years. Since then, I have joined several writers' organizations, RWA, ACFW, DFW Ready Writers, North Texas Christian Writers, and Granbury Writers' Bloc. In order to learn the business of writing and further develop my skills, I have attended numerous local, regional, and national conferences and workshops, including RWA, ACFW, CLASSeminars, and NTCW Mentoring Clinic. I am currently enrolled in the Christian Writers Guild Craftsman Course.
While teaching full-time and actively serving the Lord in our local church, I have published several short stories in our local writers' anthologies and have completed two romantic suspense manuscripts and one contemporary Christian women's fiction manuscript. I write devotions several days a week that are sent by email to more than eighty recipients and have been posted on our church website. Now they will be published in my Blog! I have devotions published in Out of the Overflow (WinePress Publishing, 2011), and Transformed (WinePress Publishing, 2012). A short story will be published in Plight before Christmas, 2012. I have written and taught ladies' Bible studies, "Praying the Lord's Prayer" and "Hearing the Voice of God." I have spoken for ladies' groups, retreats, and at the Christian Women's Job Corps.
God is so good!.
Visit her website at http://www.connielewisleonard.com
and on her Facebook author page
on her Amazon author page
on her Goodreads author page
Connie writes both Christian Fiction and Christian Non-Fiction