The Sage Record
Lyndie Blevins blogging from Sage-Texas where you can expect greater things to come
Where I Am - by Billy Graham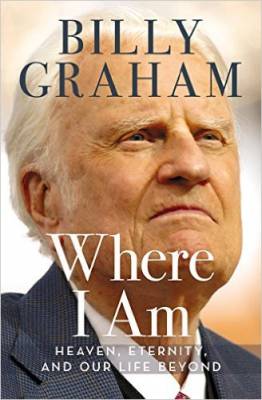 Book Title Where I Am
Book Author Billy Graham
Publisher W Publishing -Thomas Nelson
Pub. Year 2015
Pages 259
Genre Non-fiction Inspirational
Ease of Read A good read
ISBN 978-0-7180-422-6
I was attracted to this book because...
I was sold by the thought of Billy Graham's final book or at least on of his last.
This book was about
From the back cover, "When asked, 'Where is Heaven?' Mr. Graham has wisely replied, 'Heaven is where Jesus Christ is, and I'm going to Him soon.'" He has written on excepts from most of the books of the Bible supporting the conclusion of Jesus Christ's reality and that He now preparing a place for believers in heaven .
Things I liked about this book
His writing is very reassuring and informative of Jesus' promises. It produces in the reader a longing for not only having Jesus in our earthly spirits but to be in His physical presence.
Why you should read this book
Are you longing for more in your life? Have you lost some recently and the longing for them is more than you can bear? Are you interested in learning more about the promises of eternal life? If you answered in the positive for any of these, this is the book for you.
This book lived up to the back cover copy
Billy Graham is still seeking to bring Jesus Christ to the world. ben though he isn't physically able to preach these days, he is taking advantage of the written word to share his faith. This book reveals the scriptures that allow Mr. Graham to proclaim, "When I die, tell others that I've gone to my Lord and Savior Jesus Christ — that's where I am.
Stay Informed
When you subscribe to the blog, we will send you an e-mail when there are new updates on the site so you wouldn't miss them.